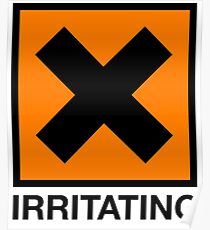 "No I don't need anger management. You need to stop pissing me off."

https://www.coolnsmart.com/annoying_people_quotes/
You are having a difficult day, right? The sales assistant in a local store refuses to do what you need them to do and you're running late, that new work colleague continues to micro manages every aspect of your work, (despite the fact you have been doing the tasks perfectly well for five years or more), and to cap the day off, you get home, the baby is screaming, house is a mess and said partner has left the toilet seat up!
Feeling a little annoyed?
Suddenly, it is all too much!
People who think they know it all are especially annoying to those of us who do
Anonymous
When we feel irritated by people's behaviour, feelings can build up inside us and we might blurt out harsh words or criticism, that is later regretted.
Feeling annoyed at other people's behavious not only damages our work and personal relationships but detracts from our level of contentment in life and even might affect our self -esteem.
In any other context, or situation, these actions would be almost meaningless, (such as leaving the toilet seat up), so we must ask ourselves:
Why are we so irritated by their behaviour?
IF YOU LET SOMETHING ABOUT A PERSON ANNOY US, (eg. eating noisily), PEOPLE WILL KEEP DOING IT TO US.
What is it that prevents us from seeing the person's good points and focusing on something bad?
Why do we seem to ascribe a negative meaning to another's behaviour in our own minds, yet feel annoyance and irritation in ourselves?
What ARE we gaining by being irritated?
We do it because it gives us a payoff.
We get to feel like a martyr – meaning I AM still okay so you are NOT
We get to blame others for our feelings
We get to feel unhappy and it's someone else's fault
The alternative is to take responsibility for our feelings and aim to be more flexible and more accepting of other people's temperaments and priorities.
Because:
Everyone IS different.
Some shout and scream, others never open up, some hoard their money and others spend it. Some love Donald Trump and other abhore him. Some like to be alone, others need to be around people. Some are loud, funny or raucous, others quiet, mellow or aloof.
If we want to be accepted as we are, we must therefore accept others just as they are, too.
Give other people space to be who they are.
"No matter how big your house is,

how recent your car is,

how big your bank account balance is,

our graves will always be the same size,

STAY HUMBLE"

Unknown – Let me know if you know who wrote this
Respect others enough to allow them the opportunity to experience life in their own way. Being irritated or upset is fine, unless it gets in the way of our own enjoyment of life.
It is much preferable to not become upset. [This might take practice if you have been irritated with other people, for a long time.]
Putting conditions on how others should behave around us, cuts us off from life itself. If your friends are much sillier, more serious, more talkative, drink more, ruder, more overly polite or more boring, liking or hating your favourite politician, delight in these differences of the folk who make up your world around you.
Enjoy their uniqueness for what it is, and do yourself a favour.
Practise Tolerance.
Everyone has a right to enjoy their life as they see fit.
Practise tolerance to feel happier!
Something to Ponder About this Sunday.