Moving out of the inner city has its advantages.
We live in a designated Koala area as the new house is located within a known corridor and adjacent to a protected Koala habitat. Yesterday, we spotted a Koala on our way home from essential shopping at the Hardware store.
This is not our first Koala sighting in our area. Several months ago, a male Koala was spotted resting in the lower branches of the same tree. See my post on Koala spotting here.
The Gumtree in which the furry marsupial was sitting, has a flourish of succulent new growth towards the crown, due, no doubt, to the recent rainfall. This has attracted another Koala occupant and this time it was a female with a Joey, (a baby Koala), in her pouch.
According to a neighbour living directly opposite, the koala had been in this tree for a week or so, I contacted the Koala Rescue to report the sighting.
The Rescue group has a number of volunteers who attend Koala sightings to perform a visual health check, as almost all Koalas in our State, are known to have a number of health issues, primarily Chlamydia infection. This is a particularly painful infection that can lead to Koala infertility, blindness and death. Along with Chlamydia, habitat loss has led to a significant decline in Koala populations to a point where they remain vulnerable.
Surveys have shown that some wild populations demonstrate a 100 percent rate of [Chlamydia] infection, which frequently leads to blindness, severe bladder inflammation, infertility and death. And treatment with antibiotics could create further problems for the marsupials, upsetting their gut microbes and making it difficult for them to digest the eucalyptus leaves that are a staple of their diet, researchers recently discovered.

http://www.livescience.com/62517-how-koalas-get-chlamydia.html

The Moreton Bay Koala Rescue is an organization staffed by knowledgable volunteers who drop everything and run to aid a Koala. Marilyn and her able assistant used a set of binoculars to assess the Koala's health from the ground, as the animal was too high to conduct a full-on assessment and rescue. In the video, they tapped the base of the tree with a stick, in order to assess her ease of movement and to get a better view of her as Koalas generally sleep during the day.
She may well be the Koala, known to rescuers as Barty, as she had a tag in her right ear, meaning that she is a female, (as women are always right!) and she did have a Joey in the pouch.
The Rescuers told us the Koala Mum has likely been carrying her Joey in the pouch, for around 6 months. In a few weeks time, this Joey will move out of the pouch and travel about on the Mum's back for several months, until it is old enough and clever enough to live independently. If the Mum has chlamydia, she will, unfortunately, pass it on to the little Joey.
Koalas Killed on Roads in Breeding Season
Breeding season is when Koalas are on the move, crossing roads and hunting for a mate. This usually starts in July; perhaps it will start earlier this year, as daily temperatures have been higher than expected.
The Rescue stated that in the first 8 weeks of the breeding season in 2019, they received and cared for 22 injured Koalas, mostly as a result of being hit by cars. It is heartening that their numbers are still high in our region, but tragic that so many are still accidentally killed by motor vehicles when crossing the road.
Koalas are harmless creatures, they basically just want to eat their gum leaves, find a mate and sleep away most of the day. If you only ate one food, you might also sleep 18 hours in every 24 too! They are not endowed with speed and often travel at night when they are difficult to spot on the road.
Slow down if you drive through a known Koala Habitat.
Kangaroo Island Koalas
South Australia's Kangaroo Island had the only population of Koalas in the country without Chlamydia infection. Sadly, it is believed up to 30,000 perished in the recent bushfires. 90 % of their food trees on the Island were burnt, so any surviving Koalas actually died from starvation, unless they were rescued. One resident claimed that you couldn't walk ten metres in any part of the forest, without coming across a dead Koala carcass.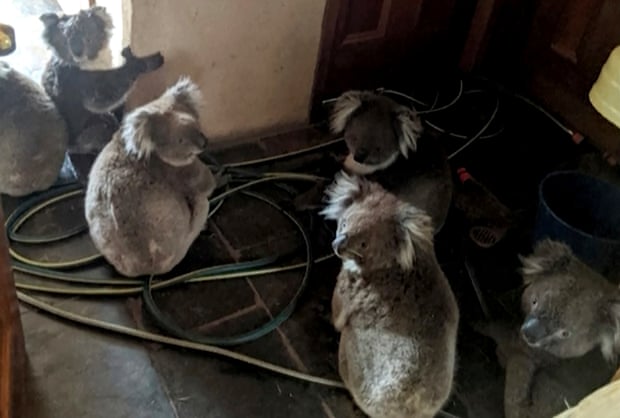 Why do we need to Protect Koala Habitat?
As incredible as it may seem, the Government still seems reluctant to protect Koala habitat. Koalas are specialised feeders; they are only able to eat four species of Eucalypt leaves and are thus, highly vulnerable to extinction. Ensuring that remaining Koala habitat is protected is a critical factor for their survival.
The Koala is an iconic symbol of Australia that brings millions of tourists and their dollars to our shores, yet it receives little recognition in the way of publicly funded support in return. After the recent bush fires, a new strategy to protect some realms of known Koala habitat in my own state, has even been criticised for not going far enough to cover many known Koala corridors.
It is absolutely essential to protect any remaining Koala habitat. We have been blessed with a responsiblity for this beautiful creature and it desperately needs our help to survive.
In order to maintain viable populations, the Koalas must be free to roam within their range and interbreed to remain healthy. Protecting Koala populations with Koala fences may actually prevent males from finding a mate to breed with.
Report Koala Sightings
It is imperative, therefore, that all sighting of Koalas are reported and documented, so that their movements can be tracked and the data collected and shared with Government bodies. This will assist in protecctive planning decisions that aim to preserve the Koala and its habitat for future generations to enjoy.
May 3 is Wild Koala day for the Moreton Bay Koala Rescue – a major fundraising event had to be cancelled, due to Covid 19. They are a not for profit organization dependent on donations and community support.
May the Rescue continue their great work. Thanks to every one of them.