Queenstown
To reach our destination in Queenstown, we'd had to firstly cross the Canterbury plains and central Otago – Mckenzie country, take lunch at stunning Mt Cook, had a tea break at Omarama and Cromwell before traversing the very scenic Lindis Pass, before finally reaching Queenstown.
Along the winding road into Queenstown, there's a small hydro plant and narrow gorge where the famous Queenstown Jetboat scoots along, at ultra high speed for tourists. Just another one of New Zealand's many thrill-seeking activities.
The Jet boat ride is not for me. I don't relish paying money to be thrown around at a high speed whilst getting splashed with cold water for a half-hour. Little did I know, that our bus ride from Queenstown would make the JetBoat ride look like a casual walk in the park.
Ski Transfer to the Remarkables Ski Fields
As you cannot stay "on-snow," in New Zealand, one must book a bus transfer to the ski fields, 8 kilometres away, which the travel agent had kindly pre-booked for me.
When the bus finally arrived at our hotel, I boarded it with a fair degree of trepidation. Picture an aging school bus dating from the 1950s, apparently called, 'Old Bertie,' with seats thinly padded with threadbare green vinyl. The rusty push slider windows with white metal casings gives you the impression of what this creaky old bus was like.
I mulled over whether I should be daunted that I was double the age of anyone else on board, including the driver, who introduced himself as Bevan. Bevan appeared so young he might still be 'wet behind the ears,' I thought.
Our pick up time was so early in the morning, we'd only grabbed a piece of toast from the extensive hotel buffet, which seemed criminal. Especially when we spent the better part of the following hour, picking up numerous beanie-clad snowboarders from the hostels around Queenstown, some of whom kept us waiting for quite some time. Bevan, our driver, had no qualms about reprimanding them for being late! Finally, though, we were on the way to the ski fields called The Remarkables: Eight kilometres away, so the road sign had said – in large print.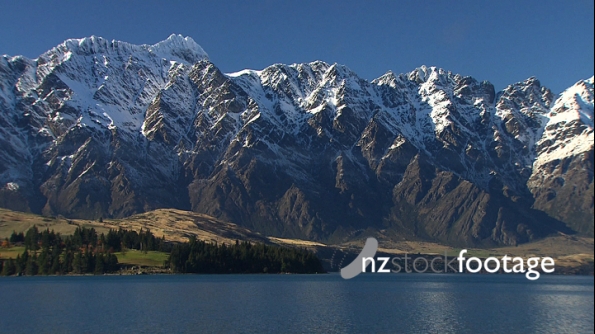 Early on the driver had problems with shifting the gears in Old Bertie the Bus, as we started up the mountain road towards the ski fields. My monkey mind worried he had not long had a license to drive this old jalopy.
"No snow on the road up to the Remarkables," the two-way radio croaked out through a crackling speaker to the driver. Apparently, it was a 'no-go,' if there was snow on the road and our transfer would be cancelled. That would be a shame, I thought.
The reason for the two-way radio message was soon to become apparent as it wasn't long before a distinctive burning smell and a handbrake in need of some tightening, confirmed my worst fears. The travel agent had booked us on a low-budget bus transfer, where passenger safety appeared to be a secondary concern. Eek!
We drove and we drove, on and on, as the old bus creaked and groaned and slipped and slid wildly back and forth across the wet and slushy roads. My young daughter, who was huddled beside me, tentatively asked, "Mum, what's that burning smell? Is it the bus?"
So she was noticing it too.
Great!
Not!
The remaining passengers seem completely unaware of any impending engine issue or disaster. Most were sleeping or dozing in their seats, heads listing awkwardly to alternate sides in perfect time with the lurching of 'Old Bertie,' around the corners. If it wasn't so worrisome, it might have been laughable.
Quickly hushing my daughter's question with reassurances, I noted we had came dangerously close to slipping off the soft edges of the mountain road. The lack of guard rails meant that if the bus happened to slide, we would go over the side of the mountain into the valley below.
Heart stopping stuff.
I told myself and my daughter, that the company must drive up here every day in winter, so it must be safe enough. With my heart palpitating at a level way above normal, I wondered if my daughter could hear the tremble in my voice!
It felt like an absolute eternity of nail-biting terror as we rounded each corner, then another and another. We had been driving for around 30 minutes. It was slow progress. Surely, I thought, we must be almost there. The sign had said 8 km to the ski fields themselves, hadn't it?
In the distance, I saw another large sign and craned my neck to read the words emblazoned therein, which declared:
"The Remarkables –

You are now half-way there!"
I felt ill.
There was probably another half-hour of this torture to endure! I gripped the seat even tighter as the bus continued to lurch from side to side, (shock absorbers or suspension was clearly unknown at the date of its manufacture).
Does anyone remember those days of driving without synchromesh in the low gears of a manual car? If you do, you might have become nostalgic about this bus which took me for a ride down memory lane, or rather, nightmare lane.
Along with no shock absorbers, the driver had to ram the gear shift down into first gear after having to stop the bus completely first, at which point the tyres would skid and slip underneath us, and the bus would slide backwards on the road, as Bevan desperately tried to get the tyres to grip the gravel mush.
What if there had been a little snow on the road? It didn't bear thinking about.
I had to close my eyes. But finally we made it to the ski site, safe but not sound!
Before we stepped hurriedly off the bus, our driver had a stern warning that we must return to the bus at 4pm, or else!
"You must tell us if you come down any other way," he said, "otherwise we will send the ski patrol out looking for you, as we don't leave anyone on the mountain."
I had already decided to descend from the ski fields a completely different way, as we were on a time limit to reach our dinner destination at Queenstown's Gondola restaurant, so the frightening bus trip merely cemented my plans in concrete. Looking out the window, I had spotted two new all-weather terrain shuttle vehicles advertising transfers back to Queenstown, for NZ$25 at the mountain Bus Stop.
So eager was I to report to Bevan the Bus driver-come-potential-troubled-youth, that I was going to use the alternative shuttle bus to return to town, I almost spat out the words to him. The bus trip up the mountain was harrowing enough, I can only imagine the absolute terror of sliding down those mountain roads in "Old Bertie," and its questionable braking ability.
The return journey was spent in a dazzling new vehicle. Even though the vehicle came very close to the edge of the moutain road, I did not feel in any danger. No burning rubber smell, either.
I wonder how Bevan and Bertie got on?
Something to ponder about.