Several years ago, we endured a heart-stopping trip to The Remarkables Ski Fields in the South Island of New Zealand. Australians flock to the NZ ski fields, every year, as it is more cost effective for them, than skiing in the limited fields in Australia.
After the 8 Kilometre, nail-biting transfer to the Remarkables Ski Field, in a very old bus, we checked "in," to receive our NZ Ski My Pass Card, microchipped to follow our progress around the ski fields and were measured for clothing, boots, and skis.
Hiring Skis and Clothing on the Ski Fields
The Ski Centre, (at 1610 m a.s.l.), was awash with bodies of all sizes in snowsuits, teeny tiny kids sliding about on snowboards and loads of skis resting in the snow.
Travel tip: Visitors can hire ski gear for their skiing adventure, (pants, jackets, and boots etc) but they do have to bring some items of their own, as I was to soon discover.
"No, you can't hire gloves, Ma'am, for hygiene reasons" – the attendant in the Ski shop told me sternly, upon enquiring. What was I thinking? (Even in this pre-Covid vacation). Ski gloves would be a personal item you couldn't and wouldn't want to hire!
I regretted not thinking through the Travel agent's vague advice: "Travel light, you can hire everything over there." I cursed leaving my own super-thick Norwegian gloves at home and regretted passing up the opportunity to buy a pair at our local supermarket, (which had so many on sale, as ski gloves aren't usually a popular commodity in Australia). Thus, having a captive market, I succumbed and purchased a pair for $50.00 at the small mountain Ski shop. It would be impossible to ski/toboggan without gloves.
Storage Lockers for Hire at The Remarkables
I also regret not hiring a storage locker at the ski centre; however, the locks appeared dubious and I preferred to have my passport, drink bottles and asthma medication with me so chose to carry it around on my back, whilst skiing, not realizing how destabilizing this would be on my balance.
Update: The Ski centre now offers secure day storage with automated pay lockers and if skiing the next day you can store your used gear overnight in the Rental Department. This is available downstairs in the base building and you can pay by credit card or EFTPOS.
Ski Lessons
Group and Private ski lessons can now easily be booked ahead of time, via the website.
I'd opted to introduce my daughter to the thrill of downhill skiing in New Zealand, so I attempted to teach her what little I knew from a trip to Thredbo Ski Fields, as a school student, some 30 years ago.
Unfortunately for my pride, it fast became apparent that following the lead of another beginner skiers in the very generous Beginner's bowl as well as eavesdropping on a few instructors was far more successful for my daughter, than listening to Mum's antiquated knowledge. Physically adept, she quickly got the hang of it, having been cross-country skiing in Norway, several years previously. Before long, she was going up and down the magic carpet in the Beginner's bowl area, while I watched on from a distance.
Lifts at the Remarkables
It is useful to bear in mind that lift passes allow you to access both The Remarkables and Coronet Peak ski fields and do not need to be used on consecutive days.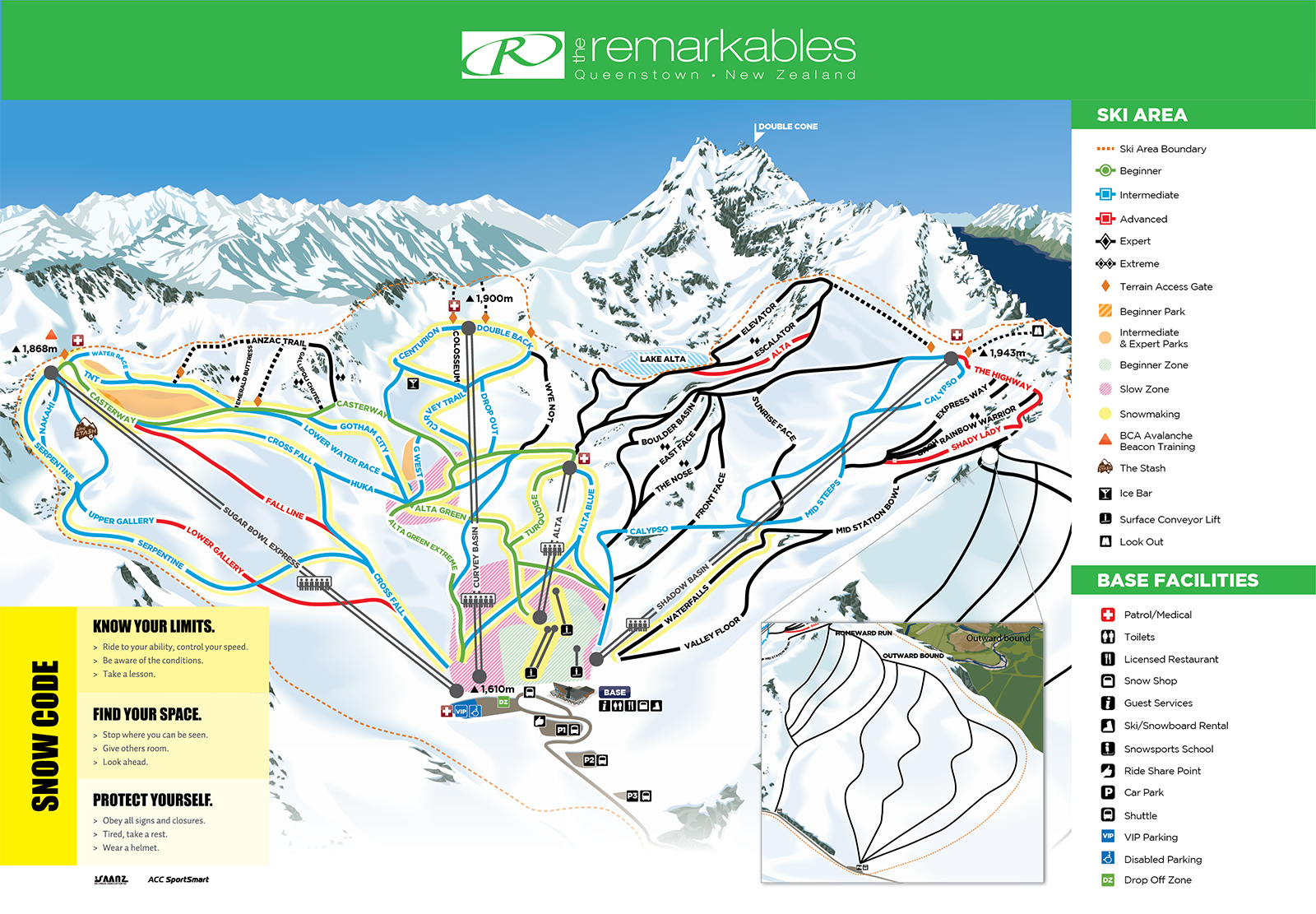 From the ski centre, we jumped, (literally), onto the chairlift, to travel up to the Tubing area. With skis on, it is no mean feat for a 10-year-old, new to downhill skiing, to manage this without any assistance. What happened to those nice attendants I remember who were there to help you on and off the chairlift with a modicum of grace?
In this age of economic rationalism, they had been replaced by a single safety officer, who replied to a request for assistance with a lackadaisical, "You'll be alright!" That is Kiwi skiing for you and his confidence in my skills, as anticipated, was sorely misplaced. Getting on the lift, was managed fine, but getting off was quite a different matter.
Busily advising my daughter, Miss 10, on what to watch out for when alighting from the chair, (which she managed with incredible finesse), I suddenly realised I'd left alighting from the chair a second or two, too late!! By which time, I had to jump, as the lift had started to turn and the ground was fast disappearing beneath me. The sharp decline on the slope meant I promptly lost my balance, falling over right in front of the turning chair!
With not a soul to help, I got up with the help of Miss 10, which was humiliation enough. I was then relieved to see a friendly face approach me, thinking this stranger was going to assist me to maintain my precarious balance on the snow. Alas, she was a photographer out to take an obligatory-first time ski portrait- the kind they sell in kiosks at somewhat ridiculous prices.
Snap snap snap, clicked the camera.
I inwardly hoped she didn't get one of me falling at the top of the chairlift. On second thoughts, that could have been a better tourist photo! With my mouth wide open, gasping for air and scrambling for something on which to gain a solid footing, (said backpack swinging around on my back), it is little wonder the photographer suddenly hesitated, thinking I was about to sneeze, or collapse. No, it was me with a mild bout of asthma, gasping for a little more air.
Tubing and Snow Fun at The Remarkables
After that mild mishap, and a few more falls and runs down the slopes, we arrived at the Tubing area – which is a short walk from the lift.
Riding a Rubber tyre tube down a huge slope is a real blast in the snow. I can't tell you how much fun it is, even for a person of my age. It is not just for children.
Miss 10 and I tubed up and down for over an hour, and I would have continued if I could have. I think sometime we may have reached speeds of 20 -30 km/h. It was heady! I felt young again!
Back then, the Tubes are pulled up by a rope tow, which has to be held taut whilst you are seated on the large rubber tube. For me, that meant holding the tow rope in a position that rather awkwardly was between my legs! Yet this was so much more preferable to walking up the hill in the snow dragging the tube in thick snow. And it meant we could get more downhill runs in. Yay!
Of course, the ubiquitous Tourist Photographer was there too. I think two photos cost near to over NZD$60.00 – you have been warned!
After several more hours, I was utterly exhausted and needed some fuel and asthma medication to continue. We returned to the beginner area instead of attempting more advanced runs. We'd fallen over too many times to remember, by this stage.
Despite seeing a nasty beginner snowboarding accident which to me looked like a flip gone wrong, we had so much fun, going up, coming down, going up, coming down, throwing snowballs, sliding down the snow cave/tunnel etc. And the view from the Remarkables was well, remarkable!
Ski Transfer to Queenstown from The Remarkables
The return trip from the ski fields is simple enough. No need to book as apparently shuttles leave the mountain every hour, or as soon as they fill up a bus load, from 2 pm onwards.
Something to Ponder About