Christmas has been and gone and with it the traditionally festive dessert of choice in Australia, (with its warm weather), the humble 'Pavlova.' This ubiquitous dessert really needs no introduction and not wishing to trigger my New Zealand counterparts, I won't mention its origins, but will note the recipe has Australian variations!
Discussions around this dessert led to a four way cooking challenge which I will explain further in the post.
Modern Take on Traditional Pavlova
My take on the Traditional Pavlova Recipe, is mainly decorative but it works well to add to the festive appearance for a special occasion or to spoil a family member.
Still piled high with a delicious marshmallow centre and surrounded by the crunchy meringue shell that we all know and love, this pavlova is topped high with seasonal fruits, whipped cream, or custard as well as cream, (depending on your cholesterol level).
As Pavlova is generally Gluten-free, (omit the cornflour), you can serve this to sensitive tummies as well! Just check the chocolate you use is gluten-free too, if you have Coeliac guests.
What's Different about this Pavlova?
It is perfect for a birthday dinner, a party, or just a treat to spoil yourself in lockdown and has a Chocolate Dome that you can smash with a rolling pin or large serving spoon, when slicing up.
What fun! Especially for kids!
Smashed Pavlova Chocolate Dome Recipe
Ingredients
Olive oil or cooking spray
800g dark chocolate, chopped
600g thickened cream
2 tablespoons caster sugar
1 pre-prepared pavlova – Recipe here
Topping of seasonal fruits: eg. cherries, mangoes, raspberries or kiwifruit
N.B. Undecorated pavlova can be made several days ahead; store in an airtight container, prior to decoration.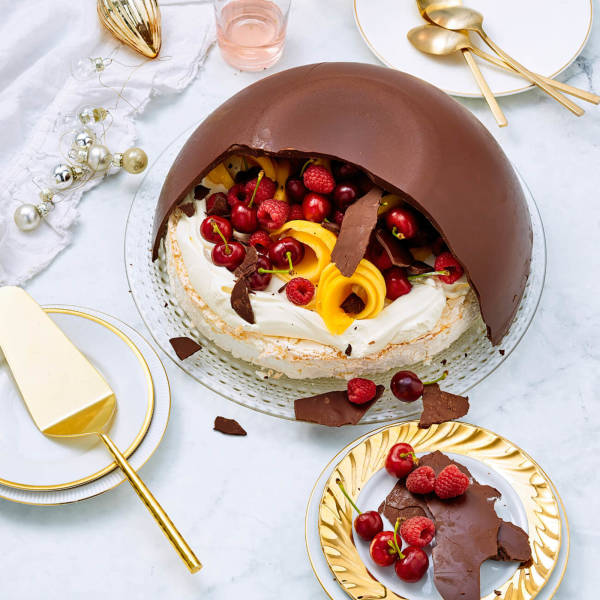 Method – Making a Chocolate Dome
Spray a 12″ or 28cm plastic or pyrex bowl lightly with oil and place in the freezer. Melt chocolate on low heat on the stove in a double boiler or in the microwave if you prefer.
Remove the bowl from the freezer and pour in half of the melted chocolate. Rotate the bowl to cover as much of the inside surface as possible, using a pastry brush to push the chocolate out to the rim. Place back in the freezer for 15 minutes.
To finish the chocolate dome, use a pastry brush to brush remaining melted chocolate over existing layer, ensuring any thin areas are touched up. Place back in the freezer for 15 minutes or until set.
Remove the bowl from the freezer. Trim the chocolate on the lip of the bowl to create an even base line and then gently rotate and tap the sides of the bowl to release the dome with a rolling pin. Run a knife along the sides of the bowl to release the dome slightly. Once chocolate comes away from the edge on all sides of the bowl the dome is ready.
3. Meanwhile, top the pavlova with cream and decorate with mango slices, cherries and raspberries. Carefully cover finished pavlova with the chocolate dome. Serve immediately.
Tip: use a wooden rolling pin or similar utensil to "smash" the chocolate casing when serving and prior to slicing.
Food Blogger Bake Off Challenge
When Sandy at The Sandy Chronicles mentioned a delicious dessert of her own a Blogging Bake-off idea was conceived. Thus, I've invited other blogging cooks such as Ju-Lyn from All Things Bright and Beautiful and Moon from Bits and Pieces to take up the Pavlova Bake off Challenge with me!
Have you previously posted about Pavlova? Would you like to try making a pavlova or another meringue like dessert?
Join in on the Pavlova Bake- off challenge by adding a pingback to this address in your post and it will update with your link.
Amanda – Something delicious to Ponder About