Japan is a very clean country. You won't see or find litter in the streets. Why?
Several years ago in Japan, a bomb placed in a busy commuter station waste bin exploded and this on top of a 1995 domestic terrorist attack using deadly Sarin Gas also in a garbage bin, led to the removal of most bins, from public spaces, in Japan.
Japanese Garbage Disposal
Since then, the Japanese people have been responsible for the disposal of their own rubbish. Most carry a bag and take their trash home with them when they are out and about. Consequently, you will see nothing but a clean streetscape without litter of any kind. And if you do find a public bin, it will be separated into recyclables and combustible garbage all ready for recycling.
Despite the huge population, you won't find trash anywhere on the streets of Tokyo or Kyoto.
Not even at Shibuya, the busiest pedestrian intersection in the world.
Nor will you find any rubbish or litter in Arashiyama, Nara or at the steps of Mt Fuji.
Recycling Garbage in Australia
Australians are fairly new to the waste recycling game with only a small portion of the 70 million tonnes of waste we produce, being recycled. The rest ends up as landfill or is shipped to willing countries, usually in the third world in exchange for hard currency! Surprising? It is true and as an Australian, somewhat shameful.
Think New Product, Not Waste
Think resource, not waste, when it comes to the goods around us – until this happens, we simply won't award recycled goods the true value and repurpose they deserve.

www.abc.net.au/news/2019-07-27/other-ways-to-dispose-of-recycling-besides-putting-it-in-bin/11350488
There are many things that might be recycled if we considered them a resource for the development of new products, rather than waste.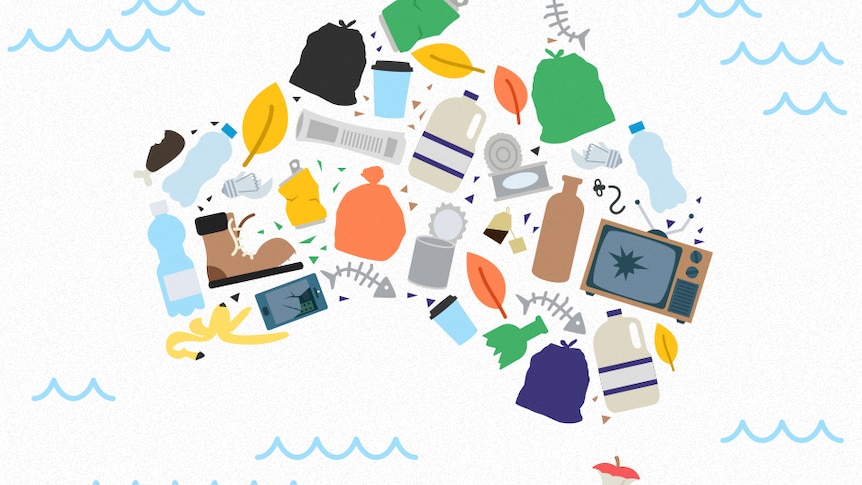 Paper, cardboard and plastics can be, and are, upcycled to new products; food and garden waste biodegrades in backyard compost heaps/bins; books are re-used, via book exchanges or free services such as Bookmooch.
Even Second-hand clothing can be recycled via thrift store donation bins or increasingly refashioned into new clothing and other items. Clothing giant, H& M are transforming old clothes into new items by recapturing the raw materials and spinning the fibres into new yarn so that something old can become new again, but importantly – without the added environmental cost.
A suburban street was recently resurfaced by recycling old car tyres, saving on carbon emissions and toxic landfill space. It was a delight to drive on.
It's estimated about 130,000 tonnes of Australian plastic ends up in waterways and oceans each year through littering. Especially problematic are products like wet wipes are being flushed and plastic flying away from landfill processing. 130,000 tonnes! No wonder the oceans are dying.
Do you know what happens to the waste you dispose of, in your country?
Global Recycling Day is observed around the world on 18th March each year, and thus the theme for the Friendly Friday Blog Challenge is:
RECYCLING
Up until Thursday 25th March, the challenge is to share photographs, a story or a blog post about what recycling means to you, on a circular economy, or what is happening in your local area?
Instructions on how to participate.
Include a comment below, tag your post Friendly Friday Recycling and pingback myself and Sandy, who will host the next challenge on Friday 26th March.
Recycling is a key part of the circular economy, helping to protect our natural resources. Each year the 'Seventh Resource' (recyclables) saves over 700 million tonnes in CO2 emissions and this is projected to increase to 1 billion tons by 2030. There is no doubt recycling is on the front line in the war to save the future of our planet and humanity.

https://www.globalrecyclingday.com/about/