Norwegians are obsessed with sunlight. They talk about it endlessly and watch and wait in the New Year, for the light to come a little earlier each day heralding the onset of an early spring.
Obsessed?
Quite possibly. Most of us are familiar with the winter blues, associated lack of sunlight and how it can alter our bodily processes, mood, energy and appetite. Some of us might even know how our thyroid gland, melatonin and serotonin levels change in winter, explaining the physiological reason for tiredness and low mood.
According to Daniel Kripke, an emeritus professor of psychiatry at the University of California, San Diego, when melatonin strikes a region of the brain called the hypothalamus, this alters the synthesis of another hormone – active thyroid hormone – that regulates all sorts of behaviours and bodily processes.
Bright light – particularly in the early morning appears to reverse these symptoms.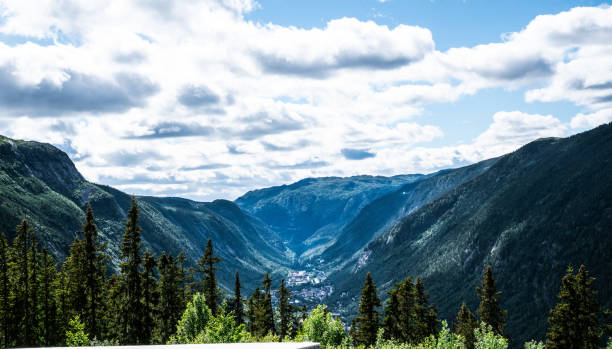 The winter darkness is harsh in the town of Rjukan, situated in one of Norway's steepest valleys. More famous for heavy water production in World War II, for half a year, Ryukan is the town where the sun didn't shine. That is, until something changed.
When the factory workers began to suffer from a lack of sun, Norsk Hydropower constructed a cable car to take them to the top of neighbouring Gaustatoppen, a mountain with a sheer 1,800-metre peak, so that workers could bathe in the sunlight!
Imagine an employer taking such an action anywhere else in the world?
This was big.
Yet, this wasn't enough for the town's people.
I felt it very physically; I didn't want to be in the shade.

Martin Andersen, Ryukan resident https://www.highbrowmagazine.com/10920-how-town-norway-copes-winter-depression
An idea was floated to use large rotatable mirrors on the northern side of the valley above Rjukan, to collect the sunlight and direct it down over the town.
It seemed crazy.
Martin Andersen thought differently.
He applied for and obtained a grant to develop a mirror that turns with the Sun while continually reflecting light into Rjukan town square.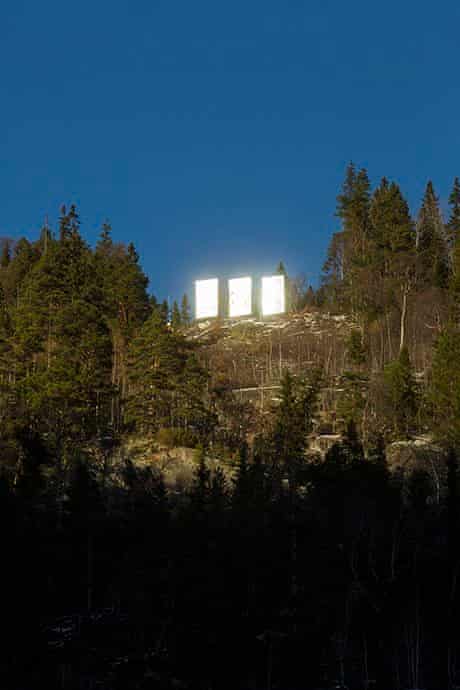 Whilst only directing light into the town, for a maximum of two hours, in the darkest month of January, it has been well received by residents and Ryukan has a new tourist attraction.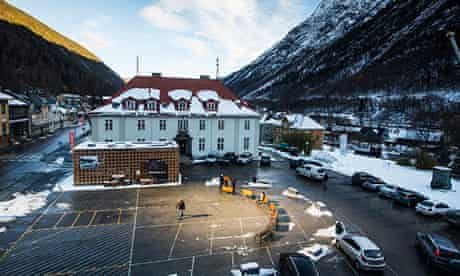 "It's the sun!" grins Ingrid Sparbo, disbelievingly, lifting her face to the light and closing her eyes against the glare. A retired secretary, Sparbo has lived all her life in Rjukan and says people "do sort of get used to the shade. You end up not thinking about it, really. But this … This is so warming. Not just physically, but mentally. It's mentally warming."

https://www.theguardian.com/world/2013/nov/06/rjukan-sun-norway-town-mirrors
Overcoming Depression without the Sun
Tromso lies 400km north of the Arctic Circle. Many Norwegians take extra Vitamin D tablets but some Northern dwellers seem to have an edge without the need for tablets.
"Winter in Tromso is dark – the Sun doesn't even rise above the horizon between 21 November and 21 January. Yet strangely, despite its high latitude, studies have found no difference between rates of mental distress in winter and summer. One suggestion is that this apparent resistance to winter depression is genetic. Iceland similarly seems to buck the trend for SAD: it has a reported prevalence of 3.8%, which is lower than that of many countries farther south. And among Canadians of Icelandic descent living in the Canadian province Manitoba, the prevalence of SAD is approximately half that of non-Icelandic Canadians living in the same place.
"It sounds dismissively simple, but a more positive attitude really might help to ward off the winter blues."
A Stanford University Researcher found that the farther north they went, the more positive people's mindsets towards winter were. People there might rephrasing attitudes like, 'I hate winter' to 'I prefer summer to winter', or 'I can't do anything in winter' to 'It's harder for me to do things in winter, but if I plan and put in the effort I can'.
In this regard, a person feels they exert some control over how they respond to the colder weather.
Have you ever suffered with the winter blues? What helped you overcome it?
Is the winter blues exacerbated by Covid-related lockdowns?