When the circuit breaker blew on our home's power connection, my explanation to the then-teenager as to why nothing was working in the house, included telling her wide-scale electricity generation was not available in our area until the 1930- 40's.
Furthermore, I explained, her own Grandmother remembered the introduction of what was referred to as, "the electric light." On hearing this, my teenager responded with a pained, then incredulous look, before asking, "So you grew up without electricity?" (Certainly not, I retorted. I was born well after the war!)
Life before Cell Phones
The teen then continued to ask how our generations could possibly have managed social arrangements and meetings without even a mobile phone to help us! If no one turned up at the agreed time, what did you do? she asked. I explained how we'd:
wait or wander off nearby, feeling either disappointed and confused and come back to check a short while later
find a payphone and call the person, if we knew their home phone number, (which we often did), or if the phone book was in-situ, we could look the number up. [How long has it been since anyone saw a phone book in a payphone box?]
go to their house and find out what happened
give up and go home
The conversation made me acutely aware of how reliant modern society is on energy and information in the form of the world wide web and cell phones. I wondered:
Could we cope without cellular or internet connections?
Fifteen years ago, such a question would have been superfluous, but now I'm not sure. My older sons certainly act as if their jugular vein has been severed if the internet connection drops out, for more than a few minutes. (In Australia, this may be fairly commonplace). Without mobile phones towers operating, we are effectively shut off from technology and information.
Consider for a moment, how really powerless and vulnerable the modern world is without the internet, cellular networks and electricity?
Years ago, we never knew any different, particularly in rural areas. Scores of people throughout the world still live this way. Would I now find it hard to go for or days without internet access or a few hours without a power source?
GOING OFFLINE and OFF GRID
Feeling determined to reject the confining chains of modern society, and re-acquaint with my inner hippie, I decided to experiment with a personal challenge to go OFFLINE and OFF-GRID – ie. voluntarily go with out power and technology for a day.
As soon as the challenge began, I was having problems.
I needed a phone number to call a tradesmen so instead of searching the net for the phone number, I tried to look it up in the phone book. No luck there as the hard copy of our phone book was not only out of date, it was buried in the darkest recesses of the junk cupboard, never to seen again.
Instead, I thought to do some holiday planning… Nope: that didn't work as I needed to look up accommodation venues on the net.
I decided to continue with my genealogical research and reading, only I needed census information and names to cross-check details and dates.
Forget that –  I will make a nice meal/dessert if only the oven would work without power.
For food: I kept the refrigerator on but tried to eat food from the pantry that did not require refrigeration.
Make a cup of tea? – How would I do that?
Perhaps I could chat to the neighbour? No luck there either, as she'd gone out somewhere or was already asleep. This was not going well.
Watch some TV? Nope! Wasn't possible.
Do some sewing/embroidery craft hobbies/ paint/fix something. Not enough light after 6pm.
Read a book or write in my journal?
YES!- I could do that – but it was night-time. And who can see by candlelight once you are past the age of 40?
Only one thing left for my other half and me to do, I guess. Go to sleep.
No wonder people had so many children before the advent of electricity.
Our reliance on energy and connectivity is obvious.
Could you take the challenge to go powerless for a day?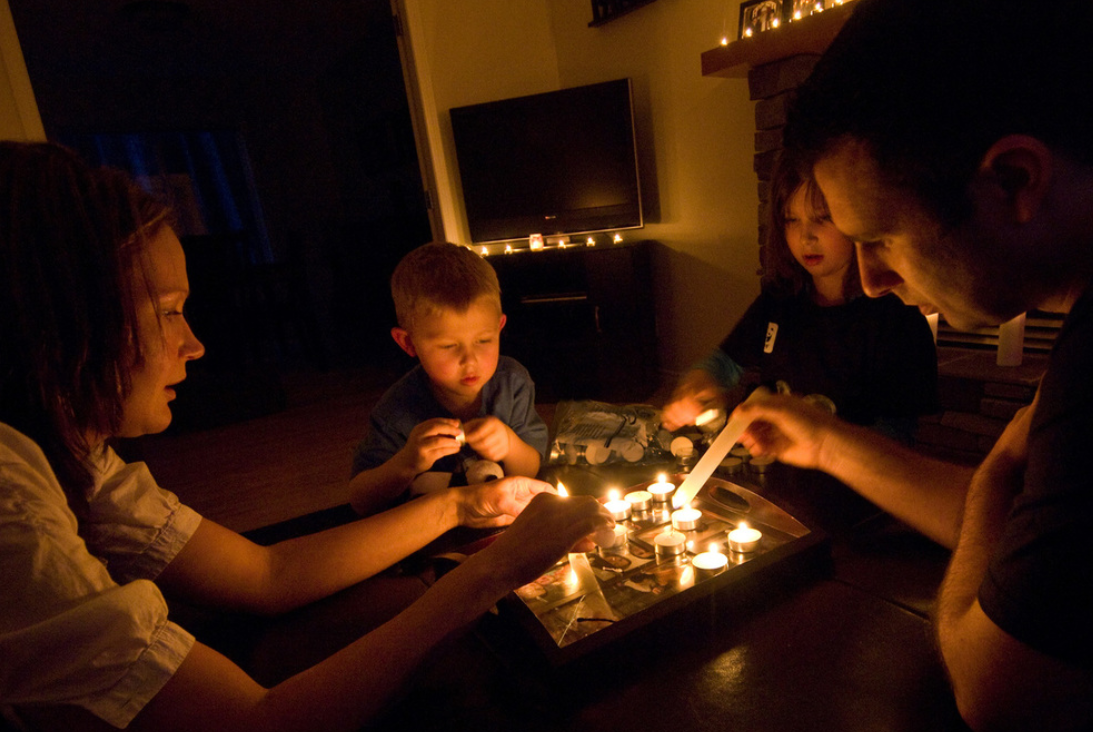 Earth Hour March 27
The Earth Hour initiative began in Sydney in 2007 by WWF and is now an annual worldwide environmental event.
Held every year on the last Saturday of March, Earth Hour engages millions of people in more than 180 countries and territories, switching off their lights to show support for our planet.

But Earth Hour goes far beyond the symbolic action of switching off – it has become a catalyst for positive environmental impact, driving major legislative changes by harnessing the power of the people and collective action.

Earth Hour is open-source and we welcome everyone, anyone, to take part and help amplify our mission to unite people to protect our planet.

https://www.earthhour.org/our-mission
Switch off your lights for an hour on Saturday, March 27, 2021 at 8:30 pm your local time.
Take up the challenge to Go OFFLINE and OFF GRID
For 12 hours:
Turn off your mobile phone
Turn off or refuse to use powered appliances.
Blog about your experience.
It is not as easy as you think.
#SwitchforNature
"Take part in the Digital switch off" in 2021
The Earth Hour global organizing team is recommending all individuals to take part digitally when possible, and to wear a mask and follow local guidelines if you are planning to be in a public space or are thinking of spending the 'Hour,' with friends and family, outside your home.

https://www.earthhour.org/take-part
David Attenborough speaks on Climate Change
Watch Greta Thunberg introduce one of our biggest allies against climate change