A dear friend turned the grand age of 80 this week and, for her party, asked the guests not to bring gifts, but instead bring some food. She politely suggested I bring some Potato Salad.
Sounds simple enough in principle, but not in practice.
Ordinarily, throwing together a potato salad would be child's play, but this was a party of primarily Danish and Scandi folk. And Danish folk are very particular about their Kartoffelsalat – Potato Salad.
The pressure was on.
Some years ago, while still a novice to Danish cooking, I once made Ris a la mande for an event that some of these folk attended and overheard some of them stating the' Rice' dish was a little 'different,' from how it traditionally tastes. On hearing this, I was somewhat crushed but rationalized that I just needed more practice at traditional cooking methods.
Danish- Australian Potato Salad
I make potato salad with red-skinned potatoes, (I don't skin them), add chopped hard-boiled eggs, artichoke hearts, and pickled cucumbers thus making the dish into a rounded meal. My friend, however, does not want that for her birthday party contribution. And when you have little time left on this earth, you get to choose!
My friend wants the dish made with potatoes only, dressed with sour cream/mayonnaise mix and maybe a little mustard. That seems a tad boring, I think. Nevertheless, I make it more or less with the ingredients listed below, but sprinkling the warm potatoes with a little Paul Newmans' vinaigrette salad dressing and adding some Dijonaise to the dressing mix, (after the cooked potatoes had cooled down).
Kold Kartoffelsalat – Danish Potato Salad
Ingredients:
650 g (1.5 lb) small potatoes with peel
2 dl (1 cup) creme fraiche/sour cream
2 dl (1 cup) soured/acidified milk (or Greek yogurt)
bunch of chives (about 1 dl/1/2 cup), finely chopped
1 red onion, finely chopped
salt
As I was making up the final presentation and remembering the whispers about the Rice dish, I had a mild panic that I hadn't followed the Danish traditional method of cooking the potatoes in their jackets and skinning them afterwards and I'd be admonished or, at least, I would be disappointing the birthday girl.
Would the Danes detect a change in the flavour?
This time, if they did taste anything different, nothing was said, and there was not an artichoke nor pickle in sight.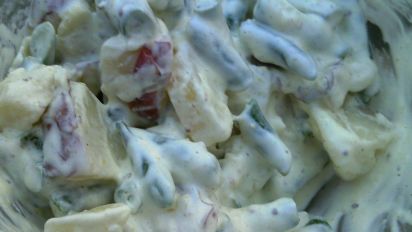 One man's potato is not another man's 'potarto,' I guess.
How do you make potato salad or Kald Kartoffelsalat?