Following on from my recent Ghost Story, I didn't grow up with the Halloween tradition and as such, I don't feel the intense need to place a 'ZOMBIE CROSSING,' sign and plaster it in my front garden on October 31 each year.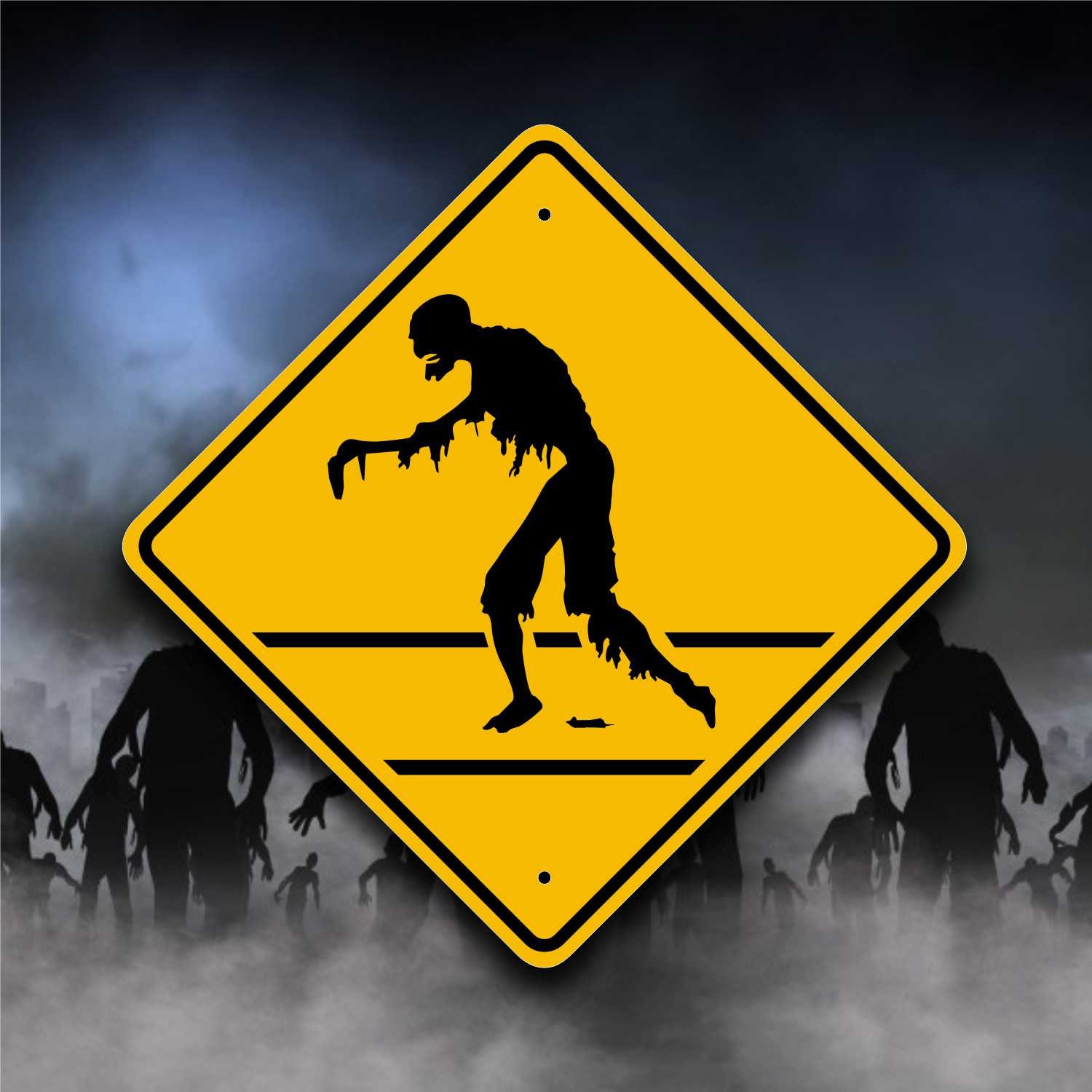 Nor do I relish having an imprint of a hand on my door/window/car in red paint, simulating blood. And I definitely don't walk around with a fake plastic axe emerging from each ear in the workplace. In fact, to my way of thinking many aspects of the Halloween festival, are just bizarre. Where did the obsession with the un-dead start?
How Did Zombies Originate?
Familiar search engines suggested Zombies were based in African folklore as a "spirit that is supposed to wander the earth to torment the living" – i.e. this explanation sounds a bit like what we might consider a ghost or paranormal occurrence here.
The Haitian tradition of Voodoo, involved Zombie beings reanimated through magic, but it was actually pop culture and various Hollywood horror movies of the 90 s, such as George A. Romero's film Night of the Living Dead (1968) that really cemented Zombies into our vernacular.
Btw, the M.o.t.h. (Man of the House), does loves a Zombie movie.
He watches them late at night, well after I have gone to bed. If I happen to wake, I know when he is watching a Zombie movie as I hear a familiar low growl-type tortured scream of the incensed Zombie mob hungry for a feed of living flesh, permeating the walls of the bedroom. So much for romance! I usually roll over and yawn. Zombie movie plots are so vastly similar and too far debased for my television tastes that I don't see any appeal in them at all.
Why Celebrate Halloween?
I do wonder why we teach young kids stranger danger, especially strangers bearing sweets or gifts, yet openly encourage them to wander the neighbourhood at night on Halloween, accepting lollies and god knows what else from a person completely unknown to them? Decorations entice them to enter the yard and walk up to a strangers' door and ask for treats! Incredible.
Worse still, kids may choose to step inside a garage/house which has been decorated in a 'ghost train' or graveyard experience-styled theme. Wonderful!
To say nothing of the incentive Halloween gives to consumers to purchase all kinds of plastic rubbish that end up in a landfill. It really is, on the face of it, you know, a bit crae-crae.
So there will be no Halloween celebrated here at the Home by the Sea. Apologies in advance to those who love to celebrate the tradition. As you've guessed, I am not one of them.
My light will be off, as that seems to be what needs to be done to dissuade the young ones' and the Zombies lollie lust. Some will no doubt think our house is fair game, especially if it is still daylight when the Halloween hoards roam the streets, hungry for their fix of sugary treats.
While I am putting the boot into this tradition, can I mention how the 'Trick' objective of 'Trick or Treat' seems to have gone out the window in favour of just getting that Treat and moving on! Nothing like time management, I guess. Kids around here head straight to the goalposts – they expect a treat and aim to collect as many as possible. Forget about performing for any sweet offerings. No messing around with water pistols or the demands of any ultimatum to the householders.
I once had to offer a biscuit/cookie to a pair of children who fronted up at my door. This was around fifteen years ago when the tradition hadn't completely taken off yet. I was embarrassed that I had been caught out unprepared. I didn't always have treats in the house.
I offered the kids a Chocolate Tim-Tam, which they quickly snavelled before moving on to the next house.
Why I don't believe In Halloween
I didn't grow up with this tradition. It came into vogue early in the noughties, in my location.
It sends mixed messages to kids
It is heavily commercialised (as is Xmas and Easter)
It produces voluminous useless plastic trash that ends in landfill or worse still, the ocean
Making yourself look like you are dead or a bag of bones is just a tad weird.
But like always, I do try to see a silver lining. So on the plus side, Halloween:
enhances community
is an excuse to get to know your neighbours better if they are not hidden beneath a Sasquatch onesie splattered in red paint
means you probably don't need to cook the kids any dinner that night
is something children love
means kids get frightened in a 'safe,' way which may help young children process intense emotions (although I am bit conflicted on this)
Any more reasons- both for and against Halloween?