Over half a century ago this happened:
It's Friday 13th, one October, in the early seventies and it's raining hard, in torrents, as it does in summer in a tropical country, like Australia. Construction had started on the Sydney Opera House, (it took 14, instead of the predicted 4 years to complete) and Apollo 16 had launched into space.
Australia in the Seventies
I am young, walking home from school down a very steep road, partly finished with asphalt, wearing an outdated, unfashionable, yellow raincoat. It is a garment made from the kind of thick rubbery plastic that makes one sweat profusely, but fails to thoroughly keep the skin dry – (its sole purpose!). I'm carrying a grey pocked-mark 'port', (a school student's case), with a red handle. I remember feeling pretty lonely, as one is apt to feel when you are of primary school age, alone and have a long walk home from school in the pouring rain.
What was I thinking on this walk home, fifty-odd years ago whilst NASA scanned the universe?
My guess is that I was probably wishing I had more friends to walk home with, so that time would pass more enjoyably. I thought about what life might be like in the future and dreamed of being happy and successful. Something most of us dream of when young.
I remember Sir Edmund Hillary, the first man to conquer Everest, had come to visit my school that day and addressed a somewhat bewildered audience of young kids, unsure of the exact significance of this tall stranger. Although I have no memory of his words, I do remember his imposing presence at the microphone as we stood at attention on the parade ground. For him to visit our far-flung school, must have meant that he spent many hours, visiting school children, not only in New Zealand but throughout Australia as well.
Growing up in Australia
What did I do when I arrived home? If the rain had stopped, I'd play with the dog in the backyard, swing on a rusty, 'Hills Hoist,' [read: rotary clothesline]. I might visit one or two friends who lived in the same street and ride our bikes, or if my friends and I were feeling creative, we might build cubby houses in the gum trees or make wooden billy carts out of fruit boxes. The splinters in fingers and toes were real!
If the rain continued, we'd build rafts out of anything we could find. As you can see, my brother made a raft out of an old metal panel, presumably laced with tetanus. Later, he confessed sheepishly that it came from the side of a Council depot's toilet shed! That was the butt of family jokes for a while. (I couldn't resist the pun!)
Primary kids were never assigned any homework until they reached high school, or if it was allocated, it wasn't compulsory, so I never thought twice about doing it. And I was one of the more diligent students as you can see by my school report.
Of an evening, I'd read books, sometimes the same ones, over and over again. Titles on loan from the library or A.A. Milne, The *Sue Barton-Student Nurse series, or Two Minute Mysteries. I collected stamps, such a boring hobby when I think about it now, or collect signatures and corny limericks in my autograph book.
Australian Parenting in the Seventies
When I arrived home from school, Mum was usually there relaxing on the lounge and I'd find something to drink: most likely red cordial, [thinking about this now makes my stomach turn], and I'd eat a biscuit or two. I would never dare to eat any more than two biscuits – there was some unwritten house rule about that. I might also follow the biscuit with a banana or apple, perhaps to clean my teeth?
Sugar featured strongly in the seventies Aussie diet, as 'Iced Vo-Vo's' and other biscuits were standard afternoon tea for many Aussie kids. The now infamous 'Golliwog' biscuits, (re-named Scallywags or something more 21st century), were my favourite, in terms of taste. The naming feels so wrong, looking back from the hindsight of our era of political correctness.
Australian Dinners, at my house, consisted of meat, peas and that awful yellow stuff; a mix of mashed potato and pumpkin was my mother's way of getting us kids to eat two vegetables at once. Little did she know I'd have been more cooperative about finishing my meal if the potato and pumpkin had been served separately, on the plate.
Apparently, this was another of those days where I showed my determined [read: stubborn], streak at rebelling in the face of injustice. I was required to continue sitting at the table for some time after everyone else had left, as I had refused to eat the dreadful yellow potato-pumpkin 'poison.' My parents mistakenly thought I would eventually eat it all up, if I sat there long enough; their parenting strategies a strange blend of Depression-era child-rearing tactics and Dr Spock's now-debunked theories of child psychology.
On evenings like these, my parents recited mantras of sagely advice such as:
"You can sit there, (at the Dining table), until you finish everything on your plate. There are starving children in Africa who'd give anything to have a meal like that." [referring to the yellow mashed potato].

Parent of the Seventies Child
This humanitarian-cause-mixed-with-guilt-trip styled parenting tactic was completely lost on my logical, young brain, as I would wile away the time sitting at the table contemplating how I would disprove their parental hypothesis by posting yellow, mashed vegies to Africa, in a test shipment.
As I sat there, alone at the dining table, the cold, yellow mound now well-congealed on my plate, I remember older brother gleefully looking up from the adjoining room, smirking during the TV-ad breaks of shows like, 'Skippy the Bush Kangaroo,' or 'Coyote Road Runner,' with his 'Neopolitan,' ice-cream embellished grin: his reward for eating his full allocation of the nightly yellow curse!
As I grew older, this parenting strategy was abandoned. Presumably, at the time of adolescence, but I can't be sure. My stubbornness may have tipped the balance in my favour, after all.
Road Trips and Bus Tours were popular vacations in the seventies; the most memorable trip for me was seeing snow in Australia's imaginatively named, 'Snowy Mountains.' I loved the sight of ice as tall as the bus and this might just be where I started my love affair with mountains and snow. I couldn't wait for the opportunity to experience it again.
Expectations of Adult Life
That afternoon in the seventies, whilst walking home in the rain, I wondered what life had in store for me as a 'grown-up.' I thought I'd have children, which came to pass, but thought I wouldn't marry. I was wrong about marriage.
I thought as an adult, I would move location often, as that sounded more exciting than living in one suburban doldrum- I was both right and wrong about that. I thought I'd live interstate or on the other side of the world, unfortunately, the M.o.t.h, my future husband, happened to be Australian and liked to stay put.
I thought my children would be strong and confident. No doubt, everyone hopes for this. They have grown to be wonderful human beings, but I see with sadness the challenges of a modern world have taken a toll on their well-being. They are my world.
Surprisingly, there was a downside to my childhood reading ritual. I think if there is blame to be laid I would blame Helen Dore Boylston, the author of, 'Sue Barton – Student Nurse,' for my misguided foray into the world of Student Nursing. The books promised a dream vocation of caring and positivity and as a child, I was bewitched. In part, a mistake.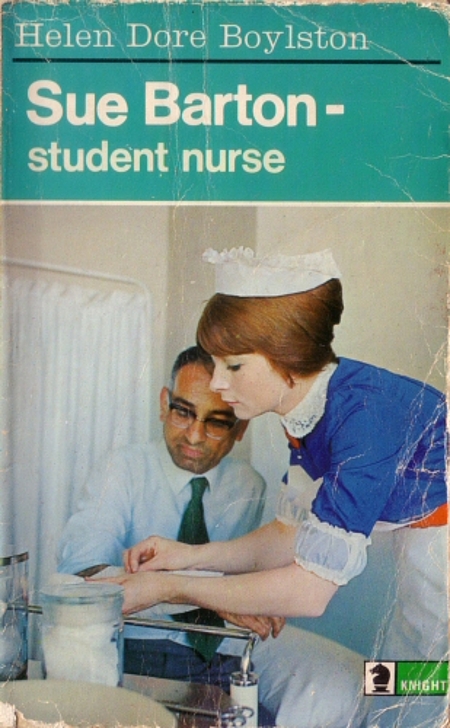 The reality was far different and although I continued to work in the medical field for most of my working life, the long hours of shift-work required of a student nurse frequently made me ill and I was forced to change my career path.
Friendly Friday Blog Challenge Prompt
For this week's Friendly Friday Challenge, we continue the Flashback theme Sandy posted earlier in the year by taking a Look Back to the Future, from our childhood years.
Here are some questions to get those creative juices flowing:
What is your memory of childhood?
Was there a significant milestone for you growing up and did it change your direction?
If you lived through the sixties and seventies, what stands out for you?
What do you recall of your childhood that directed you as an adult? Was there something that was instrumental in your path in life? Did it turn out well for you?
Is there an historic event that changed your perspective on life?
I invite you to join in and post a photo or story about your own childhood era.
Don't forget to tag your post, Friendly Friday and leave a comment below so readers can visit you.
This challenge runs for two weeks after which Sarah will release a fantastic new prompt for the next Friendly Friday Blog Challenge. Check it out at Travel With Me.